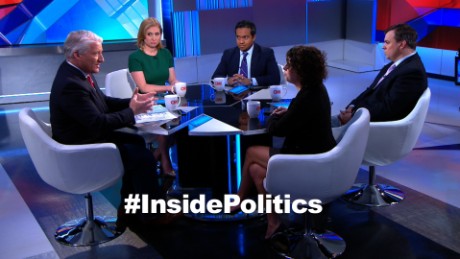 Washington (CNN)Some members of the GOP are wondering if they can trust Donald Trump. In a new twist, Trump's comments about a Latino judge could impact House and Senate races. And skeptics, from evangelicals to Mitt Romney, are sounding off about the presumptive Republican nominee.
The "Trump Effect" is everywhere this election season, and it's all in this week's "Inside Politics" forecast, where you get a taste of tomorrow's headlines today.
1) Will Trump's attacks on federal judge hurt other candidates?
The potential down-ballot impact of Trump's controversial statements has been a question since the earliest days of his candidacy, and all the more so now: His attacks on the federal judge overseeing a fraud suit against Trump University have some Republican strategists furious.
But it is also a high-profile platform for a number of Trump critics, some — like primary rival Ted Cruz — with deep evangelical ties.
Jackie Kucinich of The Daily Beast previewed some of the big moments to look for:
"I'll watch how Ted Cruz speaks at the event and how a lot of his supporters deal with their new reality with Donald Trump at the head of their ticket."
5) Tensions at Mitt Romney's summit?
Mitt Romney and Paul Ryan were a team in 2012, leading the Republican ticket in the fall presidential campaign.
But they are in very different places now. Romney says he can never support Trump, while Ryan, the House speaker, has endorsed the presumptive GOP nominee despite some big policy disagreements.
The Atlantic's Molly Ball shared her reporting on how that divide will be a subplot as Romney, the former Massachusetts governor, holds his annual political retreat this week in Utah.
"This year is expected to be a quieter affair," says Ball. "There could be a little bit of tension in the room full of big-money guys."
Read more: http://www.cnn.com/2016/06/05/politics/ip-trump-effect-trust-down-ballot/index.html