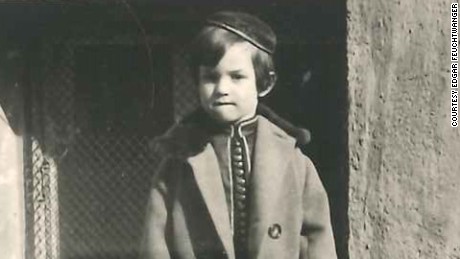 London (CNN)"I knew only too well, even when I was 8 years old — I knew it was a very bad business for us."
Edgar Feuchtwangerfirst saw Adolf Hitler on Munich's Prinzregentenplatzin 1932, a year before Hitler would be named chancellor.
"I was being taken for a walk by my nanny," he recalled. "I passed his front door just as he came out. And he saw, and I saw him, and he looked at me quite benevolently."
"There were some people, of course, in the street who immediately shouted 'Heil Hitler.' "
"If he had known who I was, I wouldn't be here to talk to you," Feuchtwanger, now 91, told
CNN's Christiane Amanpour
in an interview airing Thursday. He has written a memoir of his experience, "I Was Hitler's Neighbor," which was published last year in the UK.
The "amazing thing," he said, is that — as far as he knows — the authorities never figured out his family was related to the despised Lion Feuchtwanger.
"If they had found that out, even while we were just living there, we would have been goners — there's no doubt about it."
Read more: http://www.cnn.com/2016/06/23/europe/hitler-amanpour-edgar-feuchtwanger/index.html