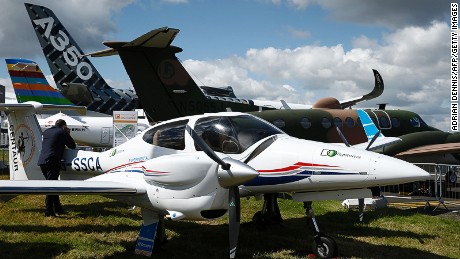 Farnborough, England (CNN)Everywhere you turn here, something is defying gravity. No matter who you're talking to, every conversation could be interrupted by the scream of raw jet power.
It's no big thing — just life at the Farnborough International Airshow.
While the world's aviation execs were hammering out business deals behind closed doors, everyone else was having fun checking out the planes and the gear.
They hold the show every two years here because this is hallowed ground. It's the birthplace of British aviation, where Samuel Franklin Cody became the first to fly an airplane in the UK in 1908.
Now, with all this aviation eye-candy lying around, it's hard to simply walk around the place without getting your mind blown.
Here are a few choice examples:
Cockpit lessons from a test pilot
I think I may have won the avgeek lottery. During a tour of an Airbus A350 airliner I ran into a pair of Airbus test pilots who happened to be aboard at the same time.
One of them, Isabelle de Montet-Guerin let me interrupt her work and invited me to take the right seat in the cockpit. She took the left seat and patiently answered my questions about how the instruments worked.
Then she demonstrated how the A350's heads-up screens project data displays onto the cockpit windshield.
Cool!
Then she walked me through using the plane's onboard computers to make sure critical systems are checked before every flight.
Later, that A350 performed a breathtaking mid-air ballet that began with a super-steep takeoff from the end of the runway that would only be appropriate at an airshow.
I wore a $400,000 fighter pilot's helmet
Superman has X-Ray vision and F-35 pilots have custom $400k helmets that can see through airplanes.
I'd wanted to try this gear for years.
I'd seen the video online about how "DAS" — aka "distributed aperture system" uses six infrared cameras, which are mounted around the F-35.
Developed by Iowa-based Rockwell Collins, the helmet combines the camera images into one view, which allows the pilot to "see" through the plane and spot targets easier.
Wearing the helmet I was completely surrounded by a green night vision world. Everywhere I turned my head — even downward, where the aircraft deck would be — I saw potential targets, symbols and data, indicating distance.
The plane — currently the most advanced fighter jet in the world — is one of the stars of this airshow as the UK commits to buying the F-35B version — which can take off and land vertically.
Lightning floats
Speaking of the F-35 Lightning, it flew. It floated. It amazed us.
An obviously carefully choreographed performance Tuesday showed off the jet's vertical landing and takeoff capabilities. With its single engine at a deafening roar, the plane floated continuously for several minutes over the heads of hundreds of onlookers.
You really had to be there, but you should watch the video on @CNNTravel. It'll give you an idea of what happened and how the F-35B pilot gave a master class in showmanship.
This next sentence gives you an idea of the scope of this airshow:
Oh yeah, by the way, the world's biggest airliner is here.
The Airbus A380 weighs 400 tons — that's about twice the weight of the Statue of Liberty.
It's the only fully double-decker airliner. Think of it as a building — with wings.
On Wednesday this thing did a little dance among the clouds — just a couple thousand feet above our heads.
Needless to say, when the world's biggest airliner is turning tightly and pulling steep ascents close to the ground, it's something to see.
Why? Imagine if you were driving home from work and you saw a semi-truck doing donuts in the mall parking lot. Would you watch? Sure you would!
Of course the real reason many folks come to Farnborough is to buy and sell new airplanes. You'll likely be flying on some of these planes very soon. So, you might want to know what's so special about them.
— Bombardier's CS100 is the first airliner of its type to be built from scratch in nearly 30 years.
— Boeing's 737MAX has amazing fuel-saving powers.
— A lot of eyes are on Embraer's new regional jet, the E190-E2.
— There's a new bigger version of Boeing's sleek, sophisticated 787 Dreamliner coming soon.
— And there's also a larger version of the A350 headed our way.
Kanye was nowhere to be seen. Same for Taylor Swift.
But there was a master of ceremonies on stage — large and in charge — rocking a bright red tux with tails.
Winners were announced over the scream of jet engines from runways just a few hundred yards outside the doors of Skyview Restaurant.
"And the winner is… Emirates!"
And in no time, a small group of perfectly coiffed flight attendants in Emirates uniforms took the stage to pose for photos with their award for World's Best Airline.
The business deals worth billions that will come out of Farnborough this week will fuel a growing airline industry that flew 3.6 billion passengers around the world last year.
And when you think about aviation's small beginnings here and elsewhere more than a century ago, that seems like a bit of a miracle.
Read more: http://www.cnn.com/2016/07/15/aviation/farnborough-wrap-up/index.html