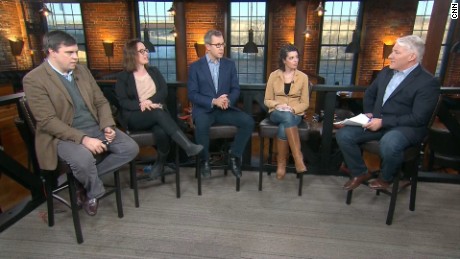 Manchester, New Hampshire (CNN)The final push in New Hampshire, new wrinkles as the 2016 campaign heads south, and a glimpse of possible presidential campaigns to come filled our special campaign trail edition of the "Inside Politics" forecast.
1. Trump's military deferments may become an issue in South Carolina
GOP Gov. Charlie Baker of Massachusetts was here over the weekend for Chris Christie. Sen. Cory Booker of New Jersey was here to campaign for Hillary Clinton.
Their goal, they insist, is to help a friend. Period.
But you can see the curiosity when these and other ambitious politicians visit in the final days. The rallies are bigger and more energetic. And getting a chance to speak gives these newer faces an opportunity to make a New Hampshire impression.
Baker will factor in future presidential speculation for the simple reason that there is a deep history of Massachusetts politicians running for president and doing well in neighboring New Hampshire.
Booker could be among those mentioned as vice presidential contenders on the Democratic side, and there is no doubt Clinton was impressed as he warmed up crowds for some of her final weekend events. And if Democrats lose in November, Booker will be among those who begin to weigh their odds for 2020.
When CNN asked if his speeches here didn't have the flavor of an audition of sorts, he dismissed that as nonsense. "This interview is over," he said with a big laugh.
And when it was over, he patiently posed for selfies with a couple dozen young people outside the Clinton event. Never hurts to make a favorable impression.
Read more: http://www.cnn.com/2016/02/07/politics/trumps-draft-deferments-could-become-an-issue-in-south-carolina/index.html