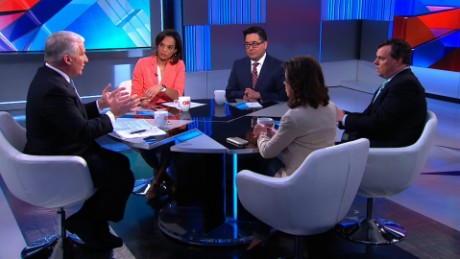 Washington (CNN)A big GOP meeting of the minds, possible fallout for Donald Trump after the RNC rumble and a Ted Cruz calendar quandary: Those stories top our "Inside Politics" forecast.
1) In a fractured GOP, rules are made to be … left alone?
The Republican National Committee meets this week in Florida — the final gathering of party leaders before their big presidential nominating convention this summer.
But that success seems like small potatoes given the states ahead: 95 delegates in New York on Tuesday and then 172 more as the April calendar winds through Connecticut, Rhode Island, Pennsylvania, Delaware and Maryland.
Jonathan Martin of The New York Times says that the April map is hardly Cruz country — though he says the senator from Texas aims to win a few targeted delegates and then hope for a better May.
"The Ted Cruz campaign is looking past New York to Maryland and Pennsylvania the following week … but for Ted Cruz's campaign, April can't end soon enough," Martin says. "They want to get to May and especially Indiana and Nebraska."
4) The Supreme Court considers immigration — with election drama
The Supreme Court vacancy is already a dividing line in the 2016 presidential campaign — and now a big immigration case is coming before the justices.
At issue: executive actions President Barack Obama took in an effort to implement some of his immigration priorities after the Republican Congress made clear it would not entertain the White House ideas.
It's a giant policy issue — and a big political issue as well. Cameras are not allowed inside the Supreme Court, but Ed O'Keefe of The Washington Post noted the major Spanish-language networks are planning special coverage.
"If the eight-member court rules in favor, the program can be implemented. If it's a tie or they rule against it, the program is blocked from being implemented before the president takes off — or before he leaves office," O'Keefe says. "But it's a reminder that the next person who takes office still has to deal with immigration in a big way."
5) Obama heads to Saudi Arabia — with a congressional bill in the balance
Obama is visiting Saudi Arabia this week, and he hopes to focus on the war against ISIS and the Iran nuclear deal. But there is another thorny issue front and center: whether the kingdom can be sued in U.S. courts in connection with the 9/11 attacks.
The Saudi government is warning it will sell off billions in U.S. assets if Congress moves such legislation close to passage.
The issue is sure to come up when Obama meets with King Salman. CNN's Nia-Malika Henderson suggests the debate is likely to spill over into the 2016 presidential campaign as well.
"It will be interesting to see if this works its way into the presidential contest with the focus on New York next week with these candidates taking very odd positions on foreign policy over these last weeks," she says.
Read more: http://www.cnn.com/2016/04/17/election-center-2016/ip-forecast-4-17/index.html