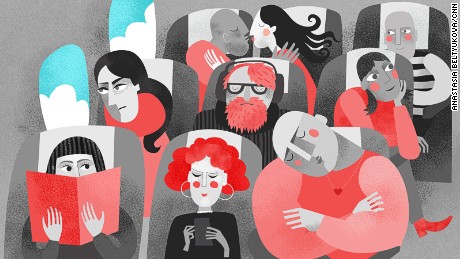 (CNN)At any given time, there are about 5,000 planes in the air over the United States, many with hundreds of passengers, all with a story and their reasons for going from A to B.
It was this fact, coupled with the boredom that comes from regularly flying for up to 13 hours to and from the United States for work, that led Eva Liparova to take action.
Tired of inflight movies and determined to get people away from their screens and interacting with each other, she came up with a plan in May 2014.
Liparova boarded her 11-hour London to San Francisco Virgin Atlantic flight armed with a notebook and pen and a quest to collect as many stories from her fellow passengers as possible.
"I work as a theater producer and co-founder at
Parrot in the Tank
, and most of the time we stage shows that are inspired by real people's stories," she tells CNN.
"So I have this fascination for collecting strangers' stories because I just think that's such a nice way to get through the day.
"My overall aim was to see how many stories could I collect and what could I learn about the types of people who were flying on this particular route."
Stage fright
"I had been watching this book being passed around and people's reactions for hours," she says. "I was at the back of the plane so it took forever to get to me, and I was worried I was going to be asleep and miss out on it.
"I read lots of the other [stories], so many anniversaries, honeymoons. I especially liked the guy on his way to propose — it seemed that love was most definitely in the air," she said.
As for her offering: "I felt like a bit of a dork when I wrote it because at the time I was sat in my seat looking smug, nervous and grinning from ear to ear, and by telling my story, my neighbors would then know why!
"It couldn't have been a better flight to have written in it."
Liparova's next project is to find the other 31 contributors.
"As a thank you for writing in the book, it would be great to connect with them and simply just hand over all the stories to them because at the end of the day, they are the co-writers of the whole project, so I think it's only fair."
Read more: http://www.cnn.com/2016/05/09/aviation/secret-lives-of-airplane-passengers/index.html