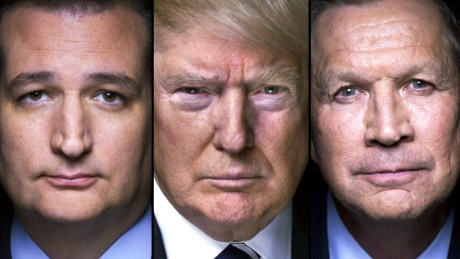 (CNN)With New York in the rearview mirror, the focus of both the Democratic and Republican presidential battles turns to a series of Northeastern states unaccustomed to the primary spotlight.
Voters in Connecticut, Delaware, Maryland, Pennsylvania and Rhode Island will head to the polls Tuesday for the "Acela primary," teeing up fights for one of the biggest batches of delegates up for grabs on both sides. The nickname for the day comes from the high-speed Amtrak train that runs between Washington and Boston, much traveled by those heading to cities such as Baltimore, Philadelphia and New York.
The opportunity provides front-runners Donald Trump and Hillary Clinton a chance to extend their dominance, while their challengers hope to keep them mired in a grueling nominating fight.
And in a surprise move,
Ted Cruz and John Kasich announced Sunday a plan
to work together in hopes of stopping Trump from securing the 1,237 delegates needed to win the GOP nomination. In a pair of statements issued minutes apart, the campaigns said Cruz would focus on Indiana while Kasich would devote his efforts to Oregon and New Mexico. By getting out of each others way in those states, the two men hope to maximize the number of delegates they can win.
Sanders' path forward
Sanders reflected on both the path he's traveled so far as well as the way forward to the Democratic nomination on Sunday.
"I'm not going to tell you that it's easy, but I think we do," Sanders told Tapper of his chances. "What polls seem to be showing is that many of the states yet to come, including California, our largest state we have a real shot to win."
And under tough questioning from Tapper, Sanders pivoted away his remark on NBC's "Meet the Press" that he was trailing Clinton for the nomination because "poor people don't vote."
"I mean, that's just a fact. That's a sad reality of American society. And that's what we have to transform," he had said. But when Tapper noted that exit polls show Clinton wins 55% of voters making less than $50,000 to Sanders' 44%, Sanders dropped that argument.
"One of the reasons I am running for president of the United States is to try to revitalize American democracy. It is not a secret that we have one of the lowest voting turnout rates of any major country on Earth," Sanders told Tapper. "And it is also true that in the last general election we had in 2014, 63% of the American people didn't vote. And the numbers were worse for low-income people and the numbers were worse for young people."
Read more: http://www.cnn.com/2016/04/24/politics/republican-party-acela-primary/index.html