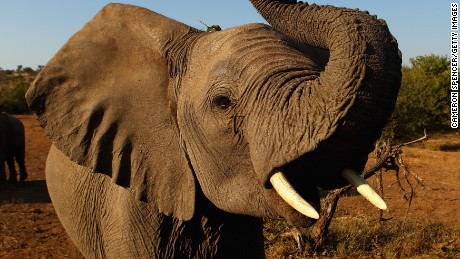 Linyanti Swamp, Botswana (CNN)Scanning Botswana's remoteLinyanti swamp from the low flying chopper, elephant ecologist Mike Chase can't hide the anxiety and dread as he sees what he has seen too many times before.
"I don't think anybody in the world has seen the number of dead elephants that I've seen over the last two years," he says.
From above, we spot an elephant lying on its side in the cracked river mud. From a distance it could be mistaken for a resting animal.
But the acrid stench of death hits us before we even land.
Up close, it is a horror.
Before the GEC, total elephant numbers were largely guesswork.But over the past two years, 90 scientists and 286 crew have taken to the air above 18 African countries, flying the equivalent of the distance to the moon — and a quarter of the way back — in almost 10,000 hours.
Prior to European colonization, scientists believe that Africa may have held as many as 20 million elephants; by 1979 only 1.3 million remained — and the census reveals that things have gotten far worse.
According to the GEC, released Thursday in the open-access journal
PeerJ,
Africa's savannah elephant population has been devastated, with just 352,271 animals in the countries surveyed — far lower than previous estimates.
Three countries with significant elephant populations were not included in the study. Namibia did not release figures to the GEC, and surveys in South Sudan and the Central African Republic were postponed due to armed conflict.
In seven years between 2007 and 2014, numbers plummeted by at least 30%, or 144,000 elephants.
And the specific cases are even more disturbing:
In the Selous Game Reserve in Tanzania, and Mozambique's Niassa Reserve, elephant populations have plummeted by more than 75% in the past ten years as poachers cut down family herds, according to the survey.
The Babile Elephant Sanctuary in Ethiopia hasn't lived up to its name: Chase and the team counted justa single herd of 36 elephants — the last in the Horn of Africa, a vast area roughly the size of Mexico.
"When you think of how many elephants occurred in areas 10 or 20 years ago, it's incredibly disheartening," says Chase.
"Historically these ecosystems supported many thousands of elephants compared to the few hundreds or tens of elephants we counted."
The current rate of species decline is 8%, meaning that elephant numbers could halve to 160,000 in nine years if nothing changes, according to the survey — and localized extinction is almost certain.
Even before the census offered proof, scientists calculated that far more elephants were dying than being born.Now the species has reached a tipping point.
AN EXTRAORDINARY INTELLIGENCE
Chase and other scientists feared they were in a race against time, which is where the Great Elephant Census came in.
The speed and scale of the project is unprecedented.Funded by Microsoft co-founder and Vulcan CEO Paul Allen, it brought together some of the best-known conservation groups and individuals, and teamed them up with the best bush pilots.
Small workhorseplanes like the Cessna 206were transformed into viewing platforms, using frames made up of rods — in some cases telescopic golf ball retrievers — fixed to the wing struts.
Observers on board the planes counted every elephant they saw within the grid, from Kenya's Maasai Mara to the Zambezi floodplains in Zambia.
As well as the GEC, Chase and his colleagues in EWB are tracking the movements of Africa's elephants using satellite collars which transmit real-time data on the elephants' movements.
Their work has brought to light signs of elephants' extraordinary intelligence, including evidence that they recognize a host of man-made threats — and are willing to cross borders to escape them.
Northern Botswana is a well-known elephant corridor for herds moving from Botswana's arid Central Kalahari to the lush savannahs and forests of Angola and Zambia.
During Angola's long civil war, elephants avoided the country. After peace was declared, they moved back in — but now,with the dramatic spike in ivory poaching, they're staying away again.
"This is really the front line," says Chase. "This is as far as they come. They will no longer move across eastern Namibia into Angola and Zambia, fearful of the consequences of poaching. Their home ranges have shrunk to within the relative safety and security of northern Botswana."
'WE'RE FAILING THE ELEPHANTS'
In northern Botswana, the Linyanti river's proximity to Namibia's Caprivi Strip — a thin finger-like stretch of the country just 30 kilometers (18 miles) wide in parts — makes it an ideal target for gangs of poachers.
"Poachers can act with impunity here, because there is nothing blocking their movements," explains Chase. "These borders are open to wildlife, and within a matter of minutes [they] can be in three different countries."
He looks through a neat record of GPS coordinates recorded in a leather bound notebook, listing possible elephant carcasses spotted by commercial pilots flying over the area.
Their corpses rot in the dry river grass down below. One bull's trunk has been hacked off and placed nearby — the poachers' signature.
"They are our living dinosaurs, the romance of a bygone era, and if we can't conserve the African elephants, I'm fearful to think about the fate of rest of Africa's wildlife."
Chase and Patterson thread atracking collararound the animal's massive neck, fixing it with four bolts and a lead ballast.
We have to work quickly; the bull can't support his six-ton weight in the sedated position for long.
Before it wakes, Chase asks us to name the elephants.
We call him Promise, for the hope — the promise, however faint — that this creature's future can be secured.
Read more: http://www.cnn.com/2016/08/31/africa/great-elephant-census/index.html