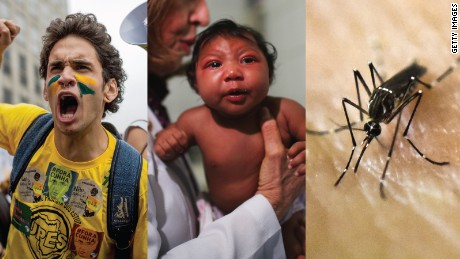 (CNN)
Politics
Brazil has been firmly in the spotlight for several years now — and not for the right reasons. A backdrop of Zika, a spiraling economy and a uncertain leadership future is hardly what Brazilians hoped for when the Games were awarded to Rio in 2009.
While her political future is uncertain, Rousseff will continue to hold the title of President, but will not be fulfilling the duties of the office.
"Well they've had more problems in the run up to these Games than we've seen with anything in the recent Games," explains Hula.
"The health crisis, the construction, the corruption, the absence of an important leader for the government to lead the way for Brazil into the Olympics — (it's) all very difficult situation for the Olympics, for Brazil, for Rio de Janiero."
He adds: "They are doing the best they can but they have got a lot of problems to deal with in these final 60-odd days."
Venues
The battle for Olympic medals will take place at 32 venues spread across the city.
With so many shadows hanging over South America's first-ever Olympic Games, the venues have been a bright spot.
According to organizers, the permanent sporting structures are almost 100 percent complete.
"Everything's going to be ready on time," Gustavo Nascimento, head of venue management for Rio 2016, told CNN. "We're going to deliver the park fully commissioned July 24 when we welcome the athletes for training."
Since a senior IOC official slammed preparations for the Games as the "worst ever" back in 2014, organizers sped up construction.
Read more: http://www.cnn.com/2016/06/03/sport/olympics-rio-2016-zika-dilma-rousseff-crisis/index.html