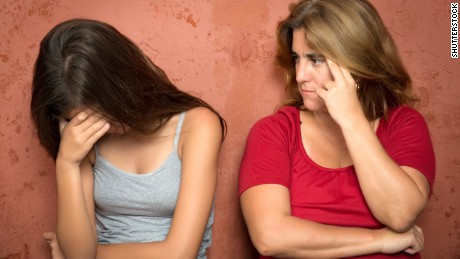 (CNN)If you had to guess what are the most difficult years for a mother, what might you say?
Infancy? Sure, dealing with a newborn is beyond stressful, as you try to figure out how to care for an infant and adjust to a new role all on zero sleep. It would be no surprise if those years were the most taxing. But I — and probably many of you reading this — would guess adolescence, namely the high school years, which I might add I am already dreading.
But it turns out the most stressful time for moms is middle school, at least according to a new study by Arizona State University researchers published in the January issue of Developmental Psychology.
"I was a little taken aback to see that apparently preadolescence is the new adolescence or junior high school or middle school is the new high school," said Suniya Luthar, one of the study's co-authors and a professor of psychology at Arizona State University.
The study involved analyzing surveys from more than 2,200 well-educated moms across the country (more than 80% had a college or graduate degree), with children ranging in age from infant to adult. Researchers then compared how mothers who only have children in one age group (infant, preschool, elementary school, middle school, high school and adult) rated their feelings about their lives.
Figuring out how to talk to your tween or teen and how involved to be could make even the most relaxed parent a tad crazy, but the bottom line from the middle school experts I talked with is that parents should do everything in their power to resist the urge to toss up their hands and give up.
"The parents have this tendency to just (say), 'Fine. You don't want to talk. Just don't talk,' and walk away," said Tobias, who has twin 24-year-old sons. "But the kids themselves, they told us over and over, 'We do want to keep a relationship with our parents. There's so much going on we just can't do it. We hope that they don't walk away.' "
Middle school is not a time to "tread water and wait out until they go through it," said Acua. "It's not just a phase they're going through. There are some key things happening and it's a really important time to develop a relationship that will carry you through the teen years and into young adulthood."
Luthar, the researcher and psychology professor, agreed and also urged mothers to reach out to other mothers of middle-schoolers for support.
"If ever there were truth to the saying, 'It takes a village,' it's now," she said. "It's not it takes a village to raise a child. It takes a village to raise a preteen."
Why do you think middle school is the most stressful time for mothers? Share your thoughts with Kelly Wallace on Twitter @kellywallacetv or CNN Health on Twitter or Facebook.
Read more: http://www.cnn.com/2016/01/27/health/middle-school-stress-mothers-research/index.html