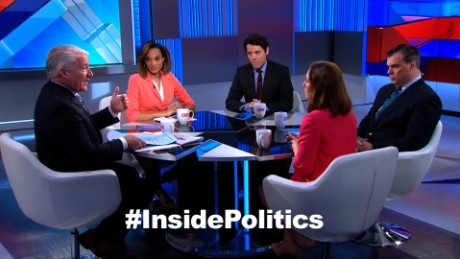 Washington (CNN)The high demand for Michelle Obama on the 2016 trail, Ben Carson's evolving role and is that "Trump effect" the real deal?
It's all a part of our "Inside Politics" forecast.
1) Obama's in demand, but first lady's a big draw
President Barack Obama is clearly itching for a big role in the 2016 campaign, eager to continue his years-long feud with Donald Trump. But Michelle Obama is more and more emerging as a big player in Democratic plans.
The polling and other research was conducted to get a sense of whether voters would punish other GOP candidates for controversial Trump positions that might not go over well in states that tend to lean blue in presidential cycles.
Two sources familiar with the research said there is no immediate evidence of a Trump drag, and the first wave of ads was crafted with that in mind.
The Chamber of Commerce announced its Senate spending in Ohio, New Hampshire, Pennsylvania and Wisconsin. CNN is told ad time was also purchased in Nevada and Arizona.
All but one of those races — Nevada — involves Republican incumbents viewed as vulnerable.
One of the sources familiar with the chamber ad strategy said the pro-GOP forces are well aware Democrats will try to paint Republican candidates as Trump sidekicks. But this source said the early research was encouraging, and that those forces believed the critical period to invest and try to shape the key Senate races was between now and the GOP convention in July.
Read more: http://www.cnn.com/2016/05/22/election-center-2016/ip-forecast-michelle-obama-hillary-clinton/index.html