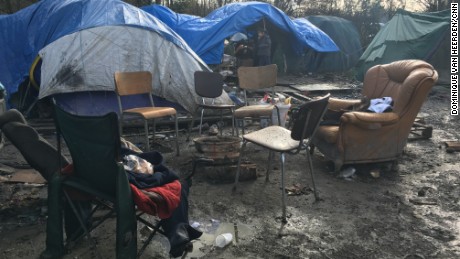 Dunkirk, France (CNN)It's pouring rain on the day we arrive at the Grande-Synthe Refugee Camp on the outskirts of Dunkirk in northern France, making an already grim scenario grimmer.
At first glance it's hard to believe this swamplike place exists between Britain and France, two of Europe's wealthiest nations. But it does, and it's not far from the better-known "Jungle" camp in Calais.
The people we meet during our time here are mostly Iraqi Kurds, their flag hoisted above all the tents. Doctors Without Borders says the residents are Kurds from Iraq, Syria and even Iran, and they are currently funding and building a new camp not far from this one.
The mayor's office in Dunkirk is limited in its ability to help because of regional restrictions which do not allow for expansion or upgrade of the camp.
It's difficult to determine how many dwell here on any given day, because the number fluctuates as people come and go. But aid workers put the figure at up to 3,000, which is a significant increase from October last year, when there were 800 people sleeping here.
Amongst them are many families.
'Hope' for change
Seven-year-old Mani is one of at least 250 children who live at this refugee camp. He, his parents and his sisters Mali and Manar have been here nine months.
Theirs is an existence built purely on hope at this stage, because they are in no physical state to try cross into Britain illegally in the dark of night, and the family does not have the money to pay smugglers the $10,000 price tag.
As Mani's father, Abbas, explains, he has already paid $30,000 to bring his family from Iraqi Kurdistan to France.
Read more: http://www.cnn.com/2016/02/17/world/amanpour-grande-synthe-refugee-camp/index.html