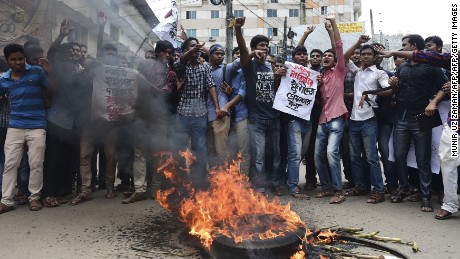 Dhaka (CNN)Something deadly and frightening is happening in Bangladesh.
Gangs armed with machetes have been hunting down and killing liberal activists and outspoken critics of Islamist extremism.
The assassinations are occurring with alarming frequency. U.S. officials counted at least 35 attacks in 14 months in Bangladesh, U.S. Ambassador Marcia Bernicat
said in an interview with CNN on Tuesday
.
Twenty-three of those attacks have been claimed by a terrorist group, she said.
Two fathers targeted for murder
Ananya Azad and Ahmed Reza Faruqi are two men who experienced this brutal violence first-hand.
Islamist militants carried out savage attacks against the fathers of both men.
Ideologically, the victims were polar opposites.
Azad's father, Humayun Azad, was a prominent atheist writer and poet. Militants slashed his face at a book fair in 2004. He was left horribly disfigured and passed away several months later.
Meanwhile, Faruqi's father, Sheikh Nur Islam Faruqi, was a well known Muslim cleric who preached peace and tolerance. In 2014, militants broke into his house, tied him up and slit his throat.
Azad shows a photo of his father, taken moments after a machete attack on February 27, 2004. The man's white shirt and face are bathed in blood, and he appears to be trying hold his wounds shut as a police officer helps escort him away.
Before he passed, the elder Azad lost vision in one eye and also lost the ability to eat solid food after the attack.
"He is my inspiration," his son says.
Determined to carry on his father's work, Azad says he continues to denounce the militant groups that have been killing his friends in Bangladesh.
"Thay are very strong, they have financial support … but I have a pen and this is my weapon. I cannot hurt anyone. But I can give much more knowledge to everyone," Azad says.
The atheist exile's defiance is echoed by the Muslim cleric in the Bangladeshi capital.
"I'm not afraid of the terrorists," says Sufi Imam Ahmed Reza Faruqi.
"I will not fear the darkness."
Read more: http://www.cnn.com/2016/04/28/asia/bangladesh-sufi-atheist-murders/index.html