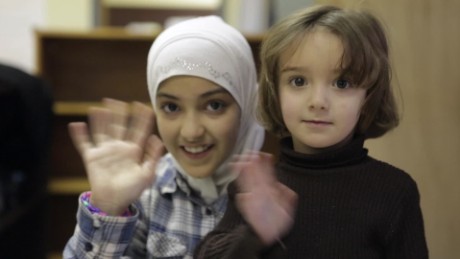 Lethbridge, Canada (CNN)Muna Ali adjusts the hijab covering her wavy brown locks as she pushes a cart at the Walmart Supercenter. The big day is almost here and all at once, time is racing and standing still.
First on today's "to do" list: a crisp white shirt and clip-on tie for her son Mohammed. She wants him to look smart for the moment she has dreamed about for so long. But Mohammed is 6 and has other ideas. He's drawn like a magnet to the "Star Wars" display.
"Can we get this?" he asks, showing his mother a pair of Darth Vader slippers.
"No, habibi," she says, using an Arabic term of endearment but then gives in to a Darth Vader hoodie. He's her only son and has been by her side throughout her ordeal.
Muna wants everything to be perfect for her family's arrival in Canada. She knows they will cross the Atlantic with little, perhaps a small bag of clothing. They have nothing left of their life in Syria.
She picks up underwear for her nephews and then wanders into the men's section. Her cheeks turn pink. "There are pictures," she says of the Fruit of the Loom packages. "I am too shy."
She comes from a conservative Islamic world, one of modesty. Buying briefs for her brothers proves too embarrassing. She looks at clothing for her mother and sister. "I don't even know what they like anymore or what size to buy."
When Muna said goodbye to everyone she loved in Syria in 2010, it was not meant to be for long. But as the uprising against Bashar al-Assad turned violent and civil war engulfed her homeland, months turned into years. Six long years.
The past few have been the hardest. Her loved ones were forced to flee the fighting and take refuge in other countries: Lebanon, Germany, Turkey, Sweden. They were a close-knit family suddenly splintered by war, unsure whether they would ever be reunited.
Ryan knew sponsoring refugees would be a huge undertaking. They would have to raise about $30,000 to support one family for a year. Beyond the financial backing, they would have to commit to helping the family settle in Lethbridge. That meant setting up a home, driving the newcomers around, taking them for medical checkups, getting the kids enrolled in school and the adults in English classes and other activities that make up the rhythm of life in Lethbridge.
Last spring, Ryan's sponsorship group launched a Facebook page, "From Syria to Lethbridge," to raise visibility of his group's efforts. A Syrian Orthodox priest who came to speak at the church as part of a peace program knew two brothers, Feras and Fadel Aljaber, who had fled the besieged city of Homs with their families. They were in Lebanon, waiting for a new home. Suddenly, the church had their families.
Donations came in at a steady pace. Some gave thousands of dollars. Others wrote a check for whatever they could afford — $20, $50. The money increased exponentially after the global publication of a photograph of Alan Kurdi, the 3-year-old Syrian boy whose body washed ashore on a Mediterranean beach.
The photo moved Canadians to act and Ryan's group became the focal point of goodwill in Lethbridge. Ryan recalls 40 people showing up at the next meeting.
The same kind of organizing was going on all over Canada, and the pace picked up significantly after the conservative government of Stephen Harper lost October's parliamentary election to the Liberals. There were many reasons for the defeat, but one was certainly Harper's hard line on accepting Syrian refugees and his opposition to the wearing of a niqab, or facial cover, by Muslim women at citizenship ceremonies.
Many Canadians, including Ryan, saw that as just plain mean.
New Prime Minister Justin Trudeau took office in early November. He intended to make good on a campaign promise to take in 25,000 government-sponsored Syrians by the end of February. Many more could come through private sponsors.
South of the border, the governors of 30 American states said they would not resettle Syrians after President Barack Obama announced plans to admit up to 10,000 refugees. Meanwhile, in Canada, things began moving forward at an extraordinary pace.
Canadian DNA
Lethbridge took the cue and oiled its refugee welcoming machine. The city formed a formal steering committee that included health workers, police officers, immigrant services staff, the mayor and private sponsors, like Ryan, who were growing by the day. One group was formed by local doctors; another was a university-led effort.
Mayor Chris Spearman says Lethbridge is the only city in Alberta that has been meeting with community groups on a weekly basis. He anticipates about 350 Syrians will settle in Lethbridge — more than 145 had arrived by the end of February. That's a sizable population for a city that is small and without a significant Arab community.
Things every immigrant should know about Canada
Everything you heard about the brutal winters is true. Bring long johns.
Canadians are generally pretty polite people, eh?
They take a lot of pride in not being "American."
They obsess over hockey.
They eat a lot of poutine (French fries smothered in cheese curd and gravy). A LOT.
Everything is in English and French, even when you are not in Quebec.
There's more to the national anthem than "Oh, Canada!"
Yes, Justin Bieber is Canadian. So is Celine Dion.
If America is a melting pot, Canada is a mosaic.
"These families escaping Syria are attacked by terrorists and are being attacked by their own government," says Spearman, himself an immigrant from Britain. "The measure of a community is how it treats the people who have the least."
Spearman often drives down to Sweet Grass, Montana, just an hour south of Lethbridge, to buy lottery tickets. He says he doesn't understand why governors and mayors in America are so hesitant to welcome Syrian refugees. Their fears, he thinks, are "unfounded."
Sarah Amies, director of Immigrant Services, knows the integration challenges will be plenty in Canada. A large number of the Syrians are arriving through the United Nations High Commissioner for Refugees and are the most vulnerable of a vulnerable population. Many were poor and uneducated before the war and are even more so now. And they have large families.
"We have at least three pregnant mums and lots of kids under the age of 5," says Amies, overseeing a mass immunization organized by her agency.
But this is not the first time Canadians have stepped up for people in crisis, and community leaders are banking on experience. In 1979, the government announced it would take in 50,000 refugees from Vietnam, Laos and Cambodia or "boat people" as they came to be known. By the end of 1981, 60,000 such refugees were settled in Canada. Even back then, many were sponsored by private citizens.
Refugees can enter Canada one of three ways: they can be sponsored by the government or by a private group or receive a little support from both. Canada requires private sponsorships to consist of at least five individuals to ensure a yearlong commitment to the refugee family.
Now it's nearly all done, she thinks as she sinks into an oversized couch, also a gift from a stranger.
"Thank God," she says of her Arab friends who have volunteered to prepare platters of kibbe and grape-leaf dolmas for the big day. That makes cooking a special meal one less worry.
A few minutes later, Erin bursts through the door carrying locally roasted bags of coffee in one hand and ice skates in the other. "We're going to turn these boys into Canadians yet," she says about Muna's nephews.
She flashes a smile the breadth of her entire face and announces Muna's family will start arriving in two days. The scenes in Muna's dreams are at long last unfolding.
On the first Sunday of February, Muna finds herself at the Lethbridge airport once again. This time, she is here for her own family.
"Finally," she tells everyone gathered around her. She is laughing and crying at once. The anticipation is thick, as though a lifetime of separation is coming to an end. War has made six years feel that long.
Ryan and Erin are here along with several other sponsors. So are the al Jabber brothers and their mother. Muna was there for them, and they wanted to reciprocate.
Ryan looks at Mohammed, dressed in his just-out-of-the-packet Walmart shirt and prancing about the arrivals hall with balloons for his cousins. How different this feels than their first meeting a few months ago when Mohammed asked whether Ryan would help his family.
Ryan will never think of Syria the way he used to. It has now become a place where a friend is from.
Air Canada Flight 7215 lands just after 2:15 p.m., 15 minutes early.
"It's happening," Muna says, excited and quickly ending a call with a friend.
She presses her cheek against the glass door and strains to see the tarmac. Her brother Abdul and his family are the last to deplane. Muna can wait no longer. She rushes through the security door, unable to contain herself.
The guard doesn't try to stop her. Everyone in the airport is watching. All have tears in their eyes.
The scene is repeated again several hours later, when Flight 7221 brings her parents and her other brother, Osama, to Lethbridge. Muna looks at the faces of her loved ones, every line deepened by war.
It's a reunion made bittersweet by the absence of brothers and sisters spread across continents and the memories of a homeland they may never see again.
But in this moment, Muna is beaming. She holds onto her father and mother — and she does not let go.
In her youth, Muna didn't take much notice of the maple leaf hoisted at the embassy near her house in Damascus. Now, she is thankful for Canada. On this day, it has given her the most precious gift of all.
Read more: http://www.cnn.com/2016/03/07/world/canada-welcomes-syrian-refugees/index.html