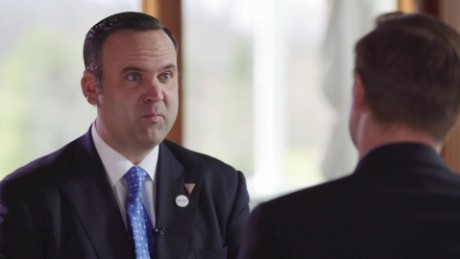 (CNN)Daniel Scavino was working a high school job cleaning golf clubs at the Briar Hall Country Club in New York's Hudson Valley when a man who would change his life pulled into the parking lot in a stretch limousine.
The visitor was business mogul Donald Trump, who, at that time in 1990, was famous as a flashy real estate developer, not a politician. The course where Scavino worked was heading into foreclosure, and Trump was in the market for expanding his golf business. Scavino, a lucky 16-year-old who happened to be in the right place at the right time, was selected caddie for Trump's party. He was instantly smitten. No one will ever believe this at school on Monday, he thought.
That day on the course with Trump would eventually set him on a career path with the mogul's growing empire and, years later, place him squarely into Trump's inner circle. In his late 20s, Scavino was promoted to general manager of Trump National Golf Club at the same course where he started as a caddie. He would travel the world with Trump visiting course and he appeared on a golf-themed episode of "The Apprentice."
In February, Trump tapped Scavino, now in his 40s, to direct the rapidly growing social media operation for his presidential campaign, putting him at the tip of the spear of Trump's unwieldyand controversial–communication strategy. Scavino has largely remained in the background of the campaign, but he sat down with CNN for an in-depth interview at the Trump National Golf Club in Hudson Valley where he provided an exclusive look at life within Trump's inner circle and described Trump's unorthodox media strategies.
"He doesn't run anything by me," Scavino told CNN. "We're a different campaign."
When the candidate works from Trump Tower in New York, Scavino said, he usually dictates his tweets to staff members who sit near his office.
"When he wants to get something out, he'll dictate it out to the girls," Scavino said.
Out on the campaign trail, Scavino himself will take the dictation and post it for him.
This approach is perhaps both a source of Trump's success and a weakness. Supporters find it refreshingly authentic in a world of otherwise sanitized presidential operations, but Trump's posts are often tainted by spelling and grammar mistakeslike when he called rival Marco Rubio a "leightweight chocker" instead of a "lightweight choker." Other insults go too far, or include embarrassing errors, such as when his account posted an image of what was supposed to be a U.S. soldier in front of an American flag, but was actually a photo of re-enactors in German Nazi military uniforms, although that particular incident occurred before Scavino joined the campaign.
But it is in the evening hours, after "the girls" in Trump Tower have gone home for the day or Trump is in his hotel room on the road that his account takes on something of a different life. It is then, Scavino said, when Trump, alone with his phone, thanks supporters by retweeting their praise and comments.
It's a nice gesture to his fans, to be sure, but fraught with peril.
Among Trump's most controversial retweets include nods to supporters of white nationalism, images mocking the looks of a rival's wife and a quote from Benito Mussolini, the founder of Italy's fascist movement. (The Mussolini quote came from a prankster who tricked Trump into posting the quote.)
While his campaign has blamed some mistakes on unnamed "interns" — like when he retweeted an account suggesting that Iowa voters suffered from mental illness for supporting Ben Carson — Trump does take some responsibility.
"It's the retweets that get me in trouble," Trump conceded during an April town hall on CNN.
Regarding the issue of retweeting accounts with histories of supporting white supremacy, Scavino acknowledged that Trump has been made aware of the problem, but defended the practice by insisting that Trump doesn't have time to check on such things before hitting the "Send" button.
"He's not clicking on peoples' profiles. He doesn't read their bios," Scavino said. "How many people go and check the history of the last 1,000 tweets the guy put out to see what he's saying on other tweets? I don't."
But what of the account called "@WhiteGenocideTM" a Twitter user with a common rallying crying of white supremacists in the title?
"He's aware of it now," Scavino said. "Let's put it this way: He'll see a message. He's not reading the handles, necessarily. A lot of it gets blown out of proportion in my opinion only because here you have a man that wants to communicate with the American people, OK? And he's doing that."
Scavino's new role
Despite Trump's hands-on approach, Scavino stays plenty busy. He travels the country with Trump, and is regularly spotted at rallies filming the crowds for the campaign as part of a live stream or footage that will appear on the campaign Facebook page or on Snapchat.
That intensity at times has landed Scavino in his own pot of hot water. After the National Enquirer published a story in March accusing Ted Cruz of having affairs — a charge Cruz vehemently denied and about which no proof has been provided — Scavino posted a link on his Twitter page to a video suggesting that one of the accused women was in an inappropriate relationship with the Texas senator. Scavino's tweet gave the appearance that members of Trump's campaign were amplifying the story online.
Like Trump himself, Scavino defended himself by saying he was just making a comment about a supporter's tweet.
"Let me make this as clear as I can. I not once — not once — through the days that National Enquirer piece was out, tweeted that out, mentioned it, commented on it, OK?," he said. "I get thousands of Tweets at me, too, you know, as well. Hundreds of videos. I commented on a video, just saying, 'Let me guess, that's @realdonaldtrump's fault, too,' because Ted Cruz was blaming everything on Donald Trump, everything. And that's all I did."
Of Trump's many battles with media figures and White House competitors, Scavino insisted that Trump is not the aggressor, but merely defending himself from attacks.
"He never attacked anybody in the sense of where he started it. It was always the opposing campaign throwing punches at Donald Trump," Scavino said, a claim that while true in some cases, is not entirely factual. "If you're going to throw punches at Donald Trump, as we've learned from the past 10 months, be prepared."
Trump, of course, invites the scrutiny. His volleys back to those who challenge him almost always escalate feuds instead of deflating them, which is a strategy Trump has relied on to rally media attention for years.
"It has, in some cases," made the tone of the campaign uglier, Scavino admits. "But you know what? Mr. Trump stands up for what he believes in."
When asked if there's anything Trump could say or do that would cause Scavino to leave, he replied, "No."
White House dreams
Should Trump be elected president, Scavino, who's married with children, doesn't plan to return to his normal job.
"I always said I wanted to be the White House photographer. I think that would be a really cool job for me," Scavino said of what he would do if Trump takes the White House. "Or maybe I'll run the POTUS Twitter account."
He would have plenty to tweet about.
Read more: http://www.cnn.com/2016/04/29/politics/donald-trump-tweets-daniel-scavino/index.html