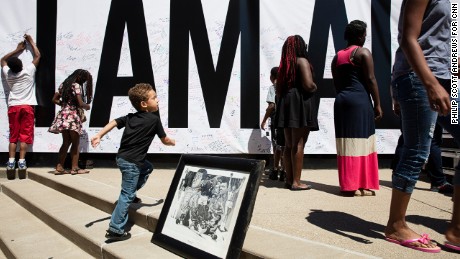 Louisville, Kentucky (CNN)Before Muhammad Ali became a hero to the world, he was a son of Louisville.
People in this northern Kentucky city revere him, and on Wednesday, folks here celebrated his life and shared stories about meeting the three-time heavyweight champion.
At a downtown festival called "I Am Ali," almost everyone seemed to have met the legendary boxer or knew someone who did. They talked of Ali as someone who made them proud to be from Louisville and inspired them to be better people.
Some came with friends, some with family. Some wanted to show their kin the impact that Ali, who died Friday at 74, had on the world. Others just wanted to pay their respects.
People brought flowers and photos to a memorial at the Muhammad Ali Center and left tributes on a wall at the the Kentucky Center for Performing Arts. Hundreds of children watched videos of the champ's classic fights or listened to people like Jole Burghy talk about how her grandfather, Joe Martin, taught a young Cassius Clay to box.
The event kicked off
three days of Louisville tributes
to Ali, which culminate Friday in a memorial service and funeral procession through the streets (see map above).
Louisvillians shared with CNN their memories about the man who was born Cassius Clay and nicknamed "The Louisville Lip" before converting to Islam, changing his name and becoming a global icon.
Ondraus Cissell, 52
"He was a positive influence on the kids and he did a lot for the community. He loved where he was from. He meant everything to Louisville.
"Everybody loved Muhammad Ali. He fought for his beliefs.
"I saw Muhammad Ali in a restaurant (not many years ago, when his health was declining). He couldn't talk, but he always had that smile."
Read more: http://www.cnn.com/2016/06/08/us/muhammad-ali-celebration/index.html