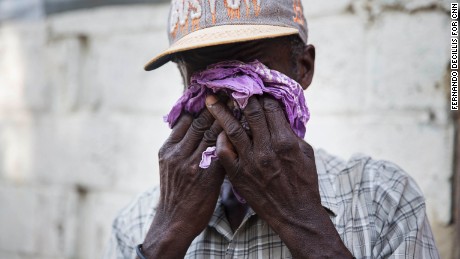 Santo Domingo, Dominican Republic (CNN)The anti-immigrant rhetoric on the radio, in shops and in the streets is familiar:
The influx from our poorer neighbor is overwhelming. They steal jobs. They are dangerous. They take advantage of our laws.
So is the counterweight:
They are seeking better lives. They do the labor-intensive jobs locals won't. They contribute to the economy.
This isn't about building a wall on the U.S.-Mexico border or deporting undocumented Central American immigrants. It's an argument taking place 700 miles off the coast of Miami on the island of Hispaniola, home to the Dominican Republic and Haiti — two nations divided by history as much as a border.
It's an uneasy coexistence for countries whose intertwined histories of colonization, conquest and racism over the centuries have left deep wounds.
In recent years, controversial court rulings and laws have renewed tensions in the Dominican Republic.
Hundreds of thousands of Dominicans of Haitian descent were stripped of their citizenship and forced to prove they were born here. Hundreds of thousands more who are undocumented immigrants have been forced to register with the government.
In a political fight with arguments similar to the debate in the United States, the immigration hard-liners won. Last year I traveled across the Dominican Republic and Haiti to see the fallout from that battle. Among the people I met: A soccer player who left the Dominican national team because she couldn't prove her nationality, a law student fighting for Haitians' rights, and a woman who saw her town divided along racial lines.
Here are their stories amid scenes of life on the island.
A wheelbarrow and a dream
Bernard Teillon says he has lived in the Dominican Republic for 50 years.
And he wants to go back to his native Haiti, as soon as he can afford it.
A long-time laborer in the fields — sowing and harvesting crops — Bernard would qualify for legal work status under a recent Dominican law to address the population of undocumented immigrants.
The National Regularization Plan was the government's answer to the hundreds of thousands of undocumented immigrants already living in the Dominican Republic, some for decades.
A 2012 census of migrants found that about 460,000 Haitian immigrants live in the Dominican Republic. More than half, about 61%, were undocumented.
Prove your identity and provide evidence of how long you've been in the country, your ties to Dominican society, and your work and socioeconomic condition.
It's an invitation to "come out of the shadows," to borrow a phrase from the U.S. immigration debate.
These apparently simple requirements, however, proved for many to be a bureaucratic nightmare, a hell brimming with red tape.
Bernard, for instance, struggled to get a copy of his Haitian passport or birth certificate to prove his identity. He said he couldn't afford the time or money to put together the required paperwork.
It is not impossible to get legal status without a birth certificate or passport. Some 20,300 undocumented immigrants registered without them, according to the Dominican Interior Ministry, but the alternate routes are not easy. It might require Bernard getting seven sworn statements from Dominicans who would attest to his life in the country.
Bernard found it too daunting. His neighbors are mostly Haitian. What Dominicans would vouch for him? Do the Dominicans he has worked for or interacted with remember him or know him well enough to write a testimony on his behalf? The immigration controversy is red hot, so many Dominicans might not want to put their name as a reference for an undocumented immigrant.
Bernard rents a small room in the Hato Mayor neighborhood of Santiago, the country's second-largest city. Immigration raids have snared neighboring tenants, and he knows it could happen to him.
"I confide much in God, so I have confidence I will be all right and that nothing bad will happen to me," Bernard says.
Timeline: A brief history of Hispaniola
Still, he wants to leave.
"Not so much out of fear, but out of respect and dignity," he says. "To see so many of my countrymen fighting so hard to get a simple identification card, and they still face so much discrimination in this country. All this has taken me to a place of consciousness to go back to my country."
He wants to depart the Dominican Republic on his own terms.
But he says he is too poor; even saving money to pay for transportation to the border is out of reach.
Next to his room, a wheelbarrow is locked to a post with a chain. It's an old wheelbarrow, and it is the one asset Bernard owns that helps him earn money doing small jobs.
"Haiti is also hard," he says, recalling why he left decades ago. Bernard remembers it as a place of permanent persecution during the rule of strongman Francois "Papa Doc" Duvalier.
Though times have changed in Haiti, it made me wonder about the effects of trying to solve a country's immigration problem without talking to the nation of origin. Can taking a unilateral, hard-line stance against Haitians work if there is no future in Haiti either?
Bernard says his health is failing. The stress makes him feel that his age has caught up to him.
"I will go to Haiti," he says. "My future is uncertain."
Growing up in Santiago, Wendy recalls other students in his public school feeling pity for him because of the unrest in Haiti.
That view changed after the devastating 2010 earthquake, which killed hundreds of thousands of Haitians and displaced more than a million others.
"The attitude toward Haitian migrants changed because their numbers multiplied, and so did their desperation," Wendy says.
As Haiti's sole neighbor, the Dominican Republic was forced to absorb some of the costs associated with the disaster, Wendy says.
In Santiago, Wendy showed me the remains of what was once a boarding house for Haitians.
Before the immigration crackdown — before Dominican landlords were hesitant to rent to undocumented Haitians — this building had maybe 10 small rooms divided by a narrow hallway. The rent for each room was about $23 a month, split among the four or five tenants who crammed into each room. All the tenants shared a single bathroom at the end of the hall. The building was gutted for a carpentry shop.
The landlord, Juan Mata, recalls at least four immigration raids on the property in the past few years. He hated how the immigration agents would knock down the doors to the boarding house each time.
"The Haitians who lived here were peaceful," he says. "They are hard workers."
The new immigration laws mean added scrutiny for Dominican landlords who rent to Haitians.
"I'm not racist. I treat Haitians just like Dominicans," Juan says, "But I follow the law. If they don't have documents, I can't rent them a room."
Gallery: Creating a home away from home
Read more: http://www.cnn.com/2016/04/12/world/dominican-republic-haiti-immigration/index.html