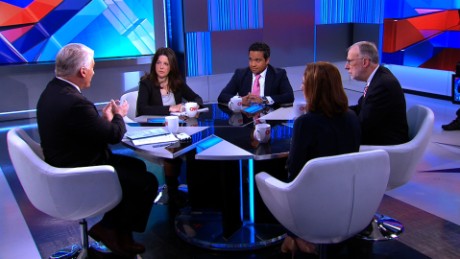 Washington (CNN)Donald Trump's plans to lobby uncommitted delegates and shore up his foreign policy credentials, John Kasich's long view and how Senate Democrats are prepping (their ad dollars) for November: it's all a part of our "Inside Politics" forecast.
1) Trump slams Cruz delegate strategy but may try similar
A staple of Donald Trump rallies these days is a complaint that rival Ted Cruz is using unethical tactics to woo GOP delegates.
CNN's Manu Raju reported on a $40 million Democratic commitment to TV ad time in five states viewed as critical to their November Senate odds.
"The big test will come on Tuesday in Pennsylvania. The Democratic Senatorial Campaign Committee put close to $2 million behind Katie McGinty, their favorite candidate in this primary, but she could lose despite having support of party establishment, President Obama, Joe Biden, and lose to Joe Sestak, former congressman and a fear among the party establishment. If Sestak wins, it could undermine their ability to take back the Senate this fall."
Read more: http://www.cnn.com/2016/04/24/election-center-2016/ip-forecast-4-24/index.html