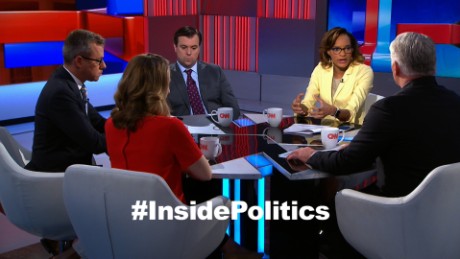 Washington (CNN)The state of the Trump campaign after a big shakeup. A preview of a battleground-state clash. Insights into Bernie Sanders' thinking. And a look at two possible Hillary Clinton running mates.
It's all a part of our "Inside Politics" forecast, where you get tomorrow's headlines today.
1) Why Tim Kaine leads the Dems' VP shortlist
Virginia Sen. Tim Kaine is getting the most buzz within Democratic circles as a potential running mate for Hillary Clinton.
And CNN's Jeff Zeleny says that's for good reason. Or reasons.
"He is from a red state, he now represents a purple state, but Spanish. When you watch him speak in Spanish, fluent Spanish, in Univision interviews, in CNN Espanol interviews, [it's] so compelling here," Zeleny explains. "Not that they necessarily need to fire up the Hispanic vote, but him being an attack dog in Espanol on Donald Trump would be so key. "
2) But wait — might Iowa's Vilsack be a sleeper VP candidate?
If not Tim, how about Tom? As in Agriculture Secretary Tom Vilsack.
He is a former Iowa governor and was a big help to Clinton in his home state this year back in January when the frontrunner needed to hold off Bernie Sanders in the kickoff caucus there.
He doesn't get much buzz, but Jonathan Martin of The New York Times suggests Vilsack will get a place in the Clinton campaign search.
"This is a safe, stable pick. If she wants somebody who is not going to cause any controversy, somebody who is a sort of reliable person for campaigning and governing, he would be it. As one Democrat pointed out to me in this week in bringing up Vilsack, he also would have no impact at all on the Senate. If you think about her other options, almost all of them would have some impact on control of the Senate."
3) Sanders' leverage may be bern-ing out
Bernie Sanders acknowledges the math: Hillary Clinton is on track to be the Democratic presidential nominee.
GOP establishment figures were thrilled. They believe Lewandowski was in over his head and encouraged Trump's worst instincts.
And Trump's children were happy, especially Ivanka Trump, who was part of the effort to fire Lewandowski. She and her husband were among those who concluded Lewandowski was leaving key tasks undone and leading a toxic work environment.
Top campaign strategist Paul Manafort also was described as relieved. He had engaged in an almost daily — or maybe hourly — game of tug of war with Lewandowski for control of the campaign, and the candidate.
But to blame Lewandowski for all of the things that cause GOP jitters would be a mistake. And insiders say showing him the door didn't immediately solve some of the Trump campaign's organizational issues.
Yes, fundraising is ticking up, but is still behind where it needs to be.
And one source with intimate insights into the Trump campaign operation described things as "worse than they look" and that "basic ABCs don't even get done … or discussed."
Read more: http://www.cnn.com/2016/06/26/politics/ip-forecast-clinton-vp-trump-reboot/index.html