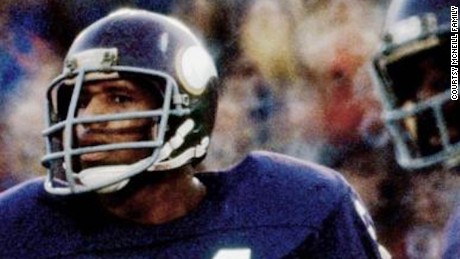 (CNN)The night before Fred McNeill died in November, he was watching "Monday Night Football." The 63-year-old former Minnesota Viking linebacker and UCLA grad had his gold and blue slippers tucked under his bed. "He loved the game," said his youngest son, Gavin. "He was proud of what he did."
Yet the very same game had robbed so much from him.
McNeill had transitioned from playing 12 years of professional football into family life. He had a wife, Tia, and two young sons, Fred Jr. and Gavin. After playing in two Super Bowls, he spent his last NFL season studying law and eventually became a partner with a firm in Minneapolis.
McNeill was easygoing and kind. His older son, Fred Jr., remembers him as "our first best friend. He was Superman." Gavin said he coached them in all things: football, baseball, basketball, life.
As his wife said, "Fred did everything. He played ball, went to law school, prepared for life after football. We had the kids. It was a good life, and then it changed."
Small changes at home and work
At first the changes were small. McNeill began forgetting to pick up the kids from school. Then he began having difficulty concentrating and completing tasks. At times he would jump up out of bed in the middle of the night because of nightmares.
He also began complaining of headaches. "I'd see him wince, and I'd go, 'What's going on?' " Tia McNeill said. "He just said, 'Oh nothing. Just in my head. Maybe I need to drink.' " He was always saying, "I need to drink some more water."
Similar issues were happening at work. One of his law partners, Barry Reed, told the Minneapolis Star Tribune, "It became more and more difficult for him to function as a lawyer." Fred McNeill eventually lost his partnership at the firm.
His personality started changing, too. Fred Jr. said his dad was normally easygoing, calm, collected. But there would be moments when his dad would suddenly lose his temper and punch a hole in the wall.
He initially attributed his dad's behavior to marital problems but realizes now it was something more. "I look back, we realize that was the first sign of that rage and that frustration of him not being able to be himself and not being able to remember things," the son said.
For the McNeills, it confirmed everything they went through. But do they blame the NFL? No.
"Our family does not place blame anywhere," Tia McNeill said. "What I'm holding onto is that I want to continue this dialogue and the information, and the awareness is important, and that's one of the things that I just have to do."
She's working with the Bennet Omalu Foundation to support other families experiencing CTE and help make sense of what they are going through.
Follow CNN Health on Facebook and Twitter.
Read more: http://www.cnn.com/2016/02/04/health/fred-mcneill-cte-football-player/index.html