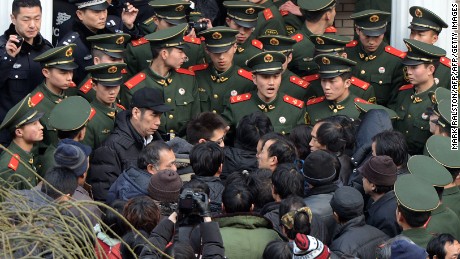 (CNN)The eight migrant workers gazed out at the crowd as the verdict was read out.
China's workers have driven the explosive growth of its economy in recent decades. Now, with record numbers of strikes across the country, the government views them as an existential threat, and it may just be right.
Flanked by two guards apiece and watched over by armed police they listened as the judge sentenced them to between six and eight months in prison.
Their crime: protesting for unpaid wages.
The scene looked like something out of the Cultural Revolution.
Hundreds of local residents massed in the public square, under banners denouncing the "crime of severely obstructing social-administrative order" and urging people to pursue "rational efforts in seeking unpaid wages", as judges and prosecutors gave those gathered what they called an "education in the law," according to state media.
But this was Sichuan province in March 2016, and a dark sign of how far labor relations have worsened in Communist China as economic growth has slowed to its weakest in a quarter of a century.
Country in revolt
From 2011 to 2013, China Labor Bulletin (CLB), a Hong Kong-based workers' rights group, recorded around 1,200 strikes and protests across the country. In 2014 alone, there were more than 1,300 incidents.
The following year, that number rose to over 2,700 more than one a day in Guangdong province a pattern that has continued into 2016.
A glance at the map of incidents shows no province of China unaffected by strikes or worker protests, a far sight from the image of technocratic control and permanent growth that the ruling Communist Party likes to present to the world.
"The fundamental cause has been the systematic failure of employers to respect the basic rights of employees, such as being paid on time and receiving their legally mandated benefits, and the failure of local government officials to enforce labor law," according to CLB.
With protests already at record rates according to CLB, Beijing is preparing for a mass-downsizing of China's bloated state-owned industries, beginning with the laying off of more than 1.8 million steel and coal workers.
The government has promised to allocate up to 100 billion yuan ($15.4 billion) in two years to help laid-off workers find new employment, according to state media.
While some strikes generally those involving foreign companies, such as a September 2014
walkout
involving more than 10,000 workers at an Apple supplier in Dongguan are widely reported, most go largely unreported outside their immediate areas, with information only seeping out later via human rights monitors and activist groups.
Frustration over wage disputes and labor issues has led to violence.
In January, a migrant worker in northwest Ningxia province set fire to a bus after a financial dispute with a construction contractor, killing 17 people, according to local officials.
Turning point
A 2010 strike at the Nanhai Honda car plant in southern China was a turning point for the country's labor movement — showing for the first time that a young migrant workforce could stand up and successfully fight for their rights, according to Eli Friedman, author of "
Insurgency Trap: Labor Politics in Postsocialist China
."
The production line was brought to a halt by 23-year-old Tan Guocheng, who shouted:"Don't work for such low wages! Don't work for such low wages!" as he hit the emergency stop button.
Dressed in matching, formless white uniforms and red Honda-branded baseball caps, dozens and then hundreds of young workers filled the factory's courtyard, chanting slogans and singing patriotic songs.
The strike would last 19 days and grow to include almost the entire factory's workforce, crippling its production schedule and forcing management and government officials to cede to strikers' demands in a rare decisive victory for workers.
While it acknowledged the extreme pressure put on its production chain by the strike, Honda did not officially comment on its resolution or negotiations with workers.
"There were many strikes that summer in which workers won large wage increases, and in some cases, democratic union elections," says Friedman.
Analysts say such worker activism happens in spite of, not thanks to, Chinese trade unions, all of which fall under the official control of the All-China Federation of Trade Unions (AFCTU), the world's largest labor organization.
Established in 1925 under the auspices of the nascent Chinese Communist Party (CCP), the AFCTU quickly grew to represent millions of workers across the country.
The union's control of the Chinese labor movement is total, any attempt by workers to organize or negotiate outside of the official structure is seen as an attack on state power.
"It was never designed to function as a real trade union," says Geoff Crothall, CLB communications director.
Except in rare circumstances, workers do not freely elect their own union representatives and corruption and abuse of power are endemic problems.
"Most of the so-called union officials know nothing about labor organizing or what it's like to work on a factory production line or construction site," Crothall says.
"They have a huge vested interest in maintaining their position."
ACFTU did not respond to a request to comment for this article.
The union recently named a migrant worker as vice chairman for the first time in what officials described as an effort to better represent grassroots labor.
"If you look at the crackdown, it is specifically aimed at the pillars of civil society that have been most effective in pushing the government to do things."
This thinking is heavily influenced by the experiences of other Communist regimes, says Friedman.
The decision by the Polish government to allow workers greater freedoms after a series of huge strikes in 1980 led to the rise of the Solidarity Union — the first non-Communist controlled labor organization in a Warsaw Pact country — and the eventual end of one-party rule.
"Solidarity played an absolutely decisive role in ending Communist Party rule in Poland," Friedman says.
While it may have been able to buy off disgruntled newly-unemployed workers in the 2000s with resettlement packages and the promise of jobs in the booming private sector, Beijing may be facing far greater instability this time around, Wu, the labor activist, warns, and much more resistance.
"Workers used to have little awareness of the rights they had; nowadays the first thought they have after encountering issues is to protect their own rights, instead of giving up."
Read more: http://www.cnn.com/2016/03/28/asia/china-strike-worker-protest-trade-union/index.html