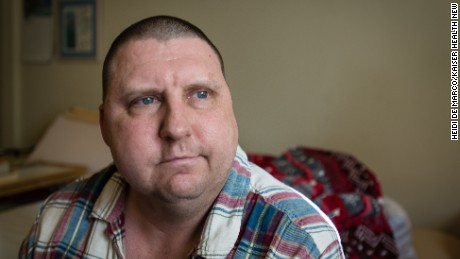 BurbankMatt Fairchild, 46, is in near constant pain. Advanced melanoma has spread to his brain and bones. He takes 26 medications a day and rarely leaves his house except to go to doctors' appointments.
Fairchild, a retired army sergeant, refuses to say he is fighting a battle against cancer, because he knows it's one he will lose. He's not sure how long he has to live, but he knows this: he doesn't want to spend his last days in agony.
In October, California became the fifth state to allow terminally ill patients to end their lives with prescriptions from their doctors after months of contentious debate. Religious groups and disability rights activists fought against the law and tried unsuccessfully to get a referendum on the ballot to overturn it.
Late last week the bill's authors announced that the aid-in-dying law would take effect June 9.
Fairchild said he feels calmer knowing the law will become effective in just a few months. When it's time, he said, having a prescription will enable him to say goodbye to family and die in his sleep instead of suffering through intense pain, nausea or seizures.
Ted Mazer, an officer of the association, said doctors across the state are grappling with their feelings about the law and whether they will be comfortable prescribing medication. Personally, Mazer said he wouldn't refuse to participate but believes that if the terminal illness is cancer, it might be more appropriate for an oncologist to do so.
"This is soul searching," he said. "Doctors will have to decide, now that this is here, what do they do when a patient is terminal and there is nothing more for them?"
The California Academy of Family Physicians is putting information for members on its website and producing podcasts that feature family physicians sharing patient stories and explaining the need for good end-of-life care.
Jay Lee, president of the association, said there is still a lot of uncertainty about the implications for physicians. But he said they will play an important role in helping ensure there is equitable access to the law across ethnic and socioeconomic groups in California and that patients understand all their choices, including hospice and palliative care.
Lee, a family physician in Orange County, said he believes the law is already leading to more conversations about the end-of-life in general.
"The law has triggered a lot of focus on an area of healthcare that for many was really taboo," Lee said. "Physicians didn't feel really comfortable bringing it up."
Matt Fairchild said he plans to talk soon with his oncologist about the aid-in-dying law. "I want to make sure he knows that it is there," he said.
Fairchild was diagnosed with cancer in 2012 after noticing a mole under his earlobe had gotten bigger. He had surgery and thought he was clear, but soon after, doctors told him the cancer had spread to his lymph nodes — and then throughout his body.
For nearly four years, Fairchild has undergone treatment, including radiation, chemotherapy and immunotherapy. Sometimes he feels like he is in a game of Whack-A-Mole, trying to beat it down in one site before it pops up in another. He knows the treatments can only lengthen his life — not save it.
Before the law passed, Fairchild said he would have considered taking his own life if he were dying and in too much pain. But he said, that's a "quiet, cold way to die." Now with the new law, he said he hopes that death will be more celebratory and peaceful.
"I don't want to hurt ever," he said. "I can't fathom the idea of being in pain and not having a way out."
Fairchild, whose face is pale and stomach swollen, spends his days at the apartment he shares with his wife. A calendar hangs from the kitchen wall, with his appointments for brain scans and blood tests and infusions scribbled in small squares.
On a recent afternoon, his cats purring nearby, Fairchild sat down on a recliner chair in front of the television. He pulled out pens and a grown-up coloring book. The title: Color Me Calm.
Read more: http://www.cnn.com/2016/03/14/health/california-assisted-suicide-law-terminally-ill/index.html