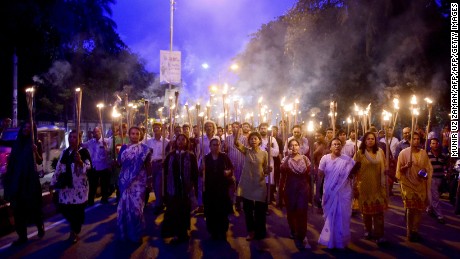 Bangladesh (CNN)Bangladesh has become a dangerous place for anyone who dares to cross an invisible line set by Islamic extremists intent on silencing dissenting voices with knives and guns.
CNN approached three bloggers who know their lives are at risk to ask what they wanted the world to know.
For their own safety, we didn't want to identify them. However, at their insistence, CNN has agreed to put their names to their words because, as one said, not doing so "will boost extremists' morale."
"They will attack us more, believing they have achieved something and forced us to hide our names (and that) if they continue killing, they can stop our writings completely."
Words in custody but killers are free, by Imran H. Sarker
Editor's note: Imran H. Sarker is a blogger, convener of the Bangladeshi Bloggers & Online Activists Network and spokesman for the GonoJagoron Moncho secular movement. The views expressed are his own.
"With the killing of one blogger after another, we seem to be heading towards total oblivion. As the world progresses under the banner of freedom of expression, we seem to be hurtling backwards. Our freedom is being silenced by the serial murder of bloggers and publishers.
Since 2013, and the onset of the
Shahbag movement
and its vision of a Bangladesh as a humane and secular nation, the killers' targets have been free-thinking and open-minded people.
Every killing has created an outcry: streets have been lined with protests. But instead of focusing on solving the murders, state officials have been known to make such statements that question their commitment for justice.
The procession of the dead increases as we lose our fellow warriors. The killers attempt to create one barricade after another on the road to free thought. The state watches in silence, while the people's anger wells up at the procession of killings.
In any civilized nation, people have a right to get justice. But among officials, not a single word seems to be uttered about denouncing the killers.
When a citizen is murdered and the state's priority is finding out the subject that he wrote about rather than identifying the perpetrators, it does appear as though the government has very little interest in identifying the murderers of these bloggers.
The state is now imposing boundaries in each and every aspect of our lives to give extremist outfits space to nurture and grow. In the meantime, our culture, heritage and identity are at stake.
Earlier this month, Pohela Boishakh, our welcome to the Bengali new year, was scaled down in comparison to previous years.
Attacks on religious minorities
and the murder of minority religious leaders are also becoming the norm.
It seems like the secular society in Bangladesh is rapidly changing and more bloodshed is inevitable. However, against the odds, a handful of young people continue to carry the charge to bring back religious harmony and freedom of speech, and to restore hope and faith to our people.
And yes, I do believe that someday we will come back as a nation. We will reclaim our losses. A nation with such a strongly defined past in which all religions, races and cultures have lived together in religious harmony — this is us, this is Bangladesh.
Maybe in this journey to reclaim our true selves, many others will lose their lives. But we continue to live in hope that our nation will triumph again soon."
Editor's Note: CNN asked three Bangladeshi bloggers for their thoughts on the recent attacks against atheists and gay activists. The views expressed here are their own.
Read more: http://www.cnn.com/2016/04/28/opinions/bangladeshi-bloggers-opinion/index.html