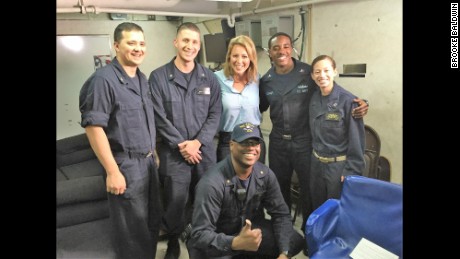 (CNN)In this exclusive Reporter's Notebook, Brooke Baldwin details her teeth-rattling, two-day embed aboard the USS Harry S. Truman, the very vessel tasked with protecting America from ISIS.
The invitation from the U.S. Navy
The most important assignment of my career took me to a place where your teeth rattle, the first rumbles against ISIS begin and 6,600 people leave home to make America proud. The official email arrived from the U.S. Navy after I sneaked off to Asia for a quick vacation. I'd clocked 22 days in a row of work in five cities (which is nothing compared to our campaign trail crews) but I needed a break. I turned on my "out of office" but couldn't help sneak a peek at work email here and there. I'm glad I did, because there it was: an invitation from the U.S. Navy to bring a CNN crew to the Persian Gulf and get a firsthand look at Operation Inherent Resolve. This would turn into the biggest assignment of my 17 years in journalism. My instant response: "I would be honored. YES!!!"
The backstory
I asked sailor after sailor: "Tell me why you want to be here, thousands of miles from home?" Their answers varied but the common thread was it's a "calling," "something bigger than myself," "I want to see the world." Men and women average age 27 left families, children, spouses behind, so they could be here (seven months and counting on deployment) to serve the United States of America. These twenty-somethings exuded a maturity, a sense of integrity and purpose far beyond their years. The more time I spent with them eating meals with them, seeing the tight quarters where they sleep, talking to them late at night when the cameras weren't rolling I came to a profound appreciation for our men and women in the military. I grew up knowing my grandfather had served our country for decades in the Navy, buried in his whites in Arlington; I have family members who are veterans. But to witness this firsthand was in a word extraordinary.
My friend Rashad, an emotional goodbye
Seeing my dear friend Rashad a husband and father of two at work as the XO and disciplinarian/dad on the Anzio is something I'll carry with me for the rest of my life. I awoke on our last day around 5 a.m. Rashad came bursting in to bring me coffee his "Starbucks stash for special occasions" — and we walked to the rear of the ship for some quiet camera-free time on the water. Typical Rashad, he was peppering me with questions about my career and love life, and I was asking about his future ambitions back home in Atlanta. Then suddenly a massive barrel of a gun started swinging over our heads. "Just Sunday morning training exercise," he assured me, unfazed. I took it all in: "Rashad, this is surreal," I responded. "We're a far way from home." We were indeed. And hours later as I had to dash into an awaiting helo to return our crew to the aircraft carrier and ultimately home, Rashad threw his arms around me, thanked me for making the trip out and asked me to make sure I told everyone back home why they're out there. Tears welled in my eyes as I made him a promise that I would do precisely that. And this week, I am carrying out that promise with three pieces airing about my journey to the Middle East. And I am full of gratitude for Rashad, my new sailor friends and our men and women in the military.
Read more: http://www.cnn.com/2016/04/18/us/brooke-baldwin-reporter-notebook/index.html